While in the previous mission, the Aeon forces have pushed out of the Quarantine Zone area and launched an attack on Luthien. This planet holds a large cache of natural resources and another vital UEF research facility that must be defended in Operation Snow Blind. Commander Arnold will once again be deployed alongside your forces.
From here, I'll assume you know how the game works and I'll stop reminding you to build Mass Extractors, queue up orders, put factories on repeat, etc.
1. BUILD AN AIR FACTORY
Schematics: end of Mission 1
Time limit until objective 3 completed: 24:00
You'll want both Land and Air Factories for this mission. The Air Factory is there for the usual support, as well as transporting units to Lima Foxtrot in the northeast. You don't need transports yet – just concentrate on building land units, making sure to include anti-air units in your queues. Send an Engineer to grab the two Hydrocarbon Power Plant spots to the north – but be sure to lightly defend the second one, lest Aeon patrols destroy it.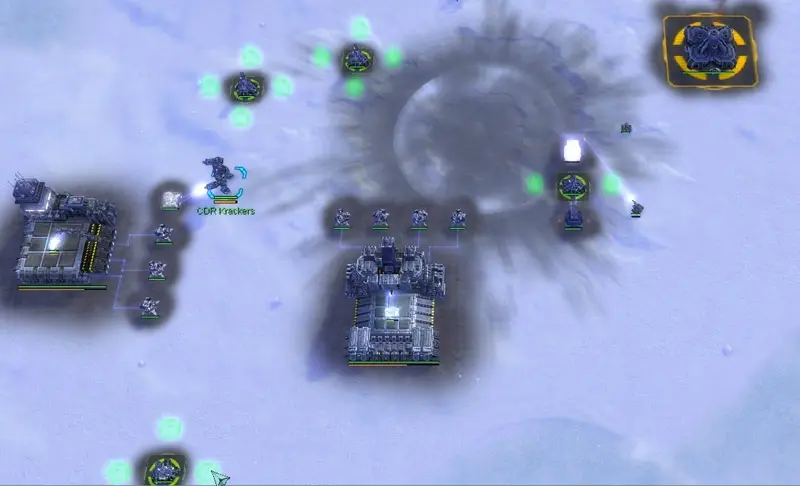 2. DEFEAT ALL AEON PATROLS
Wait until you have a sizable ground force, then set it to patrol from north to south along the edges of the map. Once the patrols are destroyed in your area, expand your patrols gradually until you've cleared a path for your Air Transport to move through with an engineer. If you're pressed for time, build base defenses and move your ground units north to make a path more quickly. Send fighters on the route you plan your Air Transport to take to make sure the way is safe.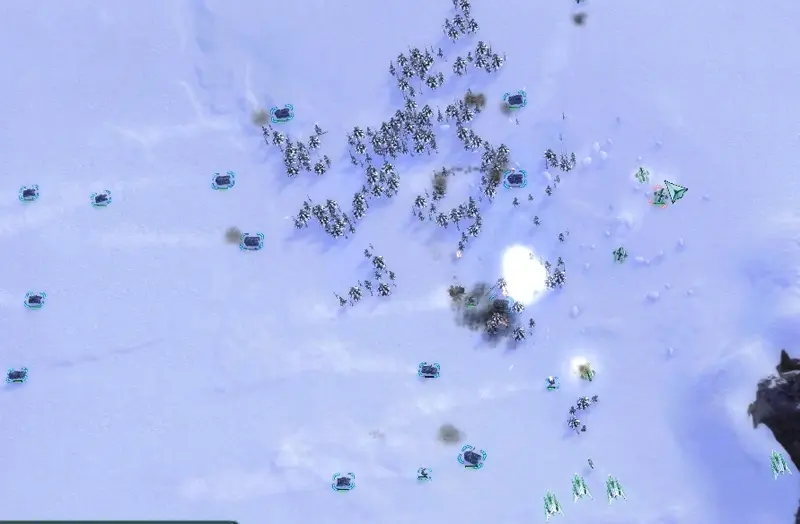 3. REPAIR THE RESEARCH FACILITY AT STATION LIMA FOXTROT
Move an engineer across the north edge of the map with your Air Transport to repair the facility. The engineer should build some land and air turrets along the south walls of Lima Foxtrot, while your land forces patrol the southern edge of the map.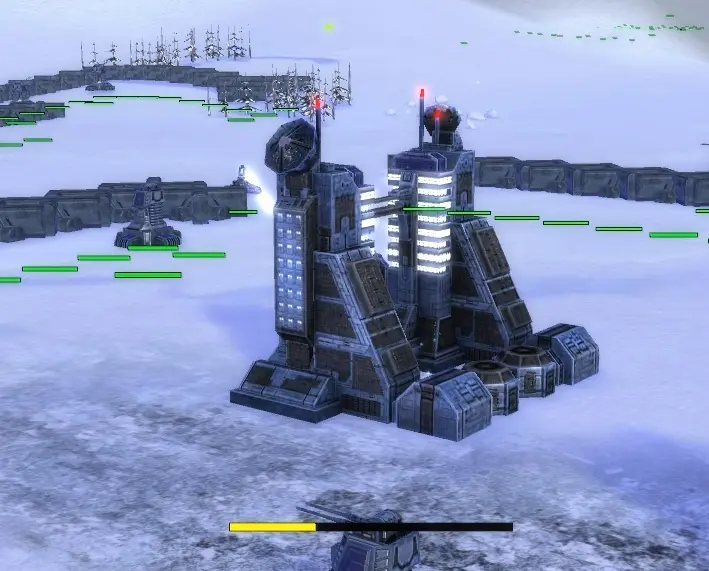 4. DEFEAT AEON ASSAULT
Schematics added: T2 Land Factory, T2 Air Factory, Gunship, Mobile Flak Gun
Build a couple more Air Transports and get some of your land units to Lima Foxtrot, while keeping some on patrol to defeat Aeon assaults on your main base. It also helps to build a Land Factory at Lima Foxtrot with any spare Engineers. The Aeon will send several waves of land and air units at you; prepare for the air units with mobile flak and the ground units with gunships. Combined with the defenses you've built, it should be easy to take them out.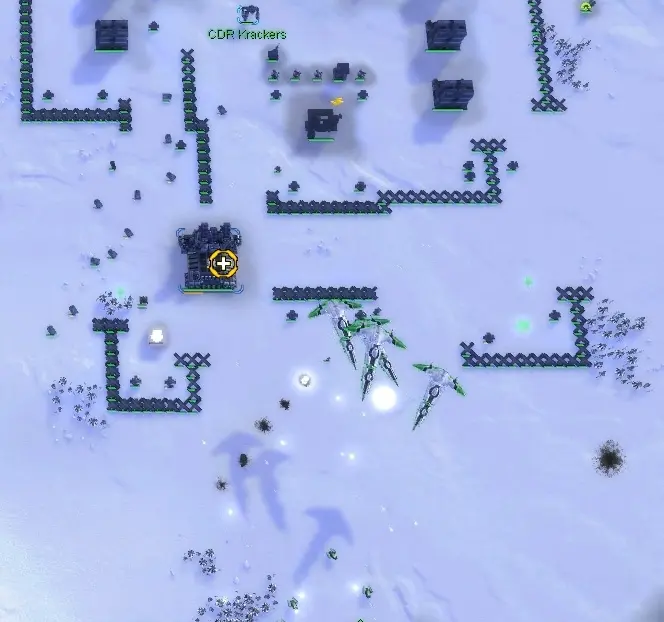 5. GET UNITS TO THE LUTHIEN COLONY
Map expands to the south There are light Aeon patrols between you and Luthien in the southwest, but it shouldn't be a problem. You need 20 tanks, 12 anti-air trucks and 14 gunships; you probably already have that many tanks and trucks, so if you lost any gunships, rebuild them and land them at Luthien.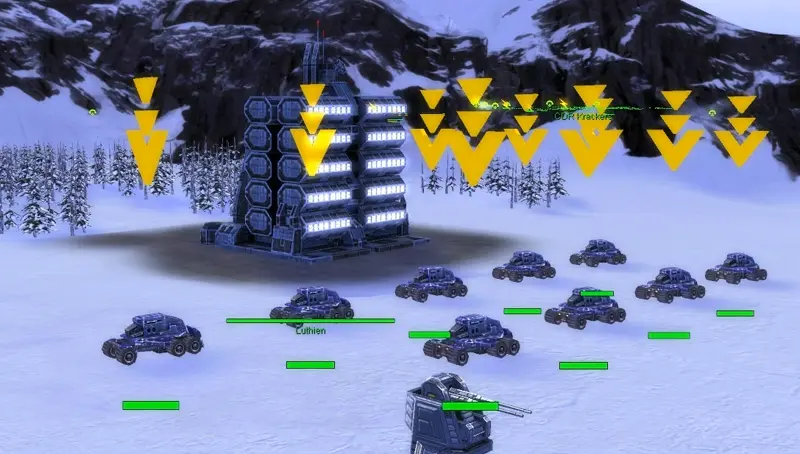 6. DESTROY ALL AEON LIGHT RADAR INSTALLATIONS
The easiest way to kill these is simply to have your extra ground forces move in on them, along with bombers and any gunships that aren't at Luthien.
7. EVACUATE LUTHIEN COLONY
You have control of 8 civilian trucks from Luthien. Your Air Transport(s) and Gunships are more than enough to get them immediately to Lima Foxtrot; set up a ferry point and have the gunships assist the ferry beacon. Guard with fighters while your ground units move out to cover the southern border.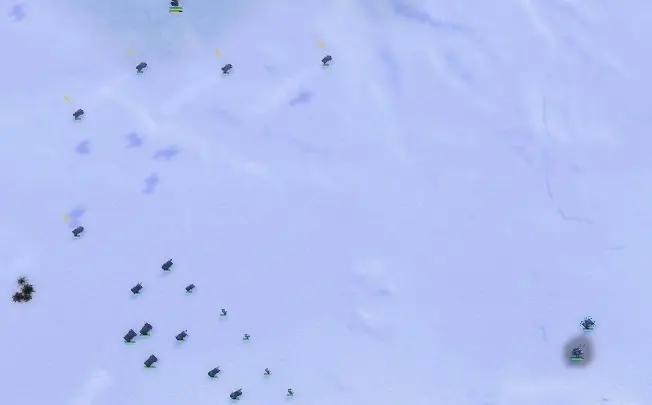 8. DEFEND STATION LIMA FOXTROT
Map expands to the south
Schematics added: T2 Heavy Tank and Mobile Missile Launcher This is quite easy: simply have your existing ground army patrol to the south of Lima Foxtrot as well as to the north of the enemy base. You should have switched to T2 units by now, and they should be more than enough to hold off the Aeon while you build up forces.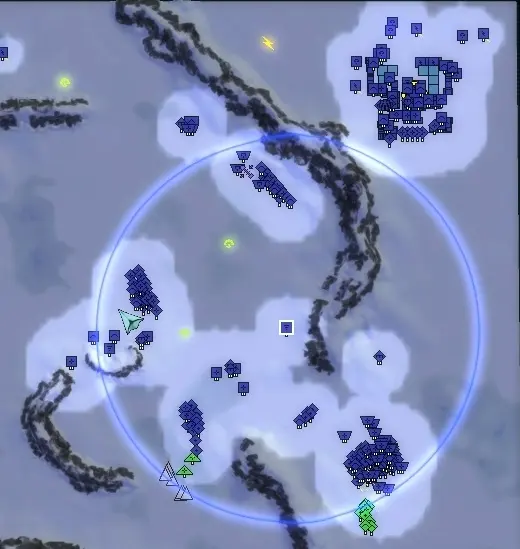 9. DESTROY THE AEON FACTORIES
Instead of a frontal assault (which will destroy all your T1 units without accomplishing anything), move around to the southwest and southeast corners and attack from the back door. There are still defenses, but the shields are light enough for you to move in under them and get through.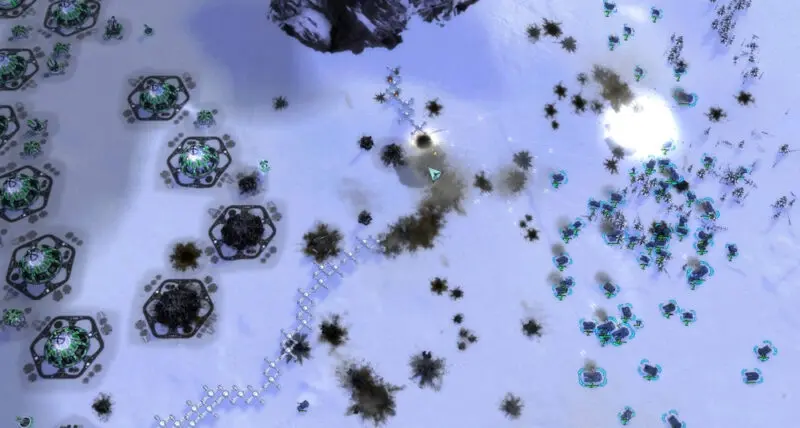 Mission 2 – Operation Snow Blind – Video Guide